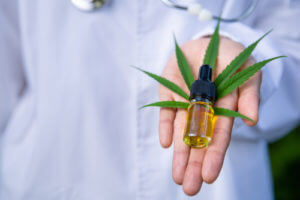 Lichen planus is a skin condition affecting our body, mouth, scalp, and genitals. It can cause much discomfort to the person and can even make drinking or eating a challenge. These days, many people are aware of the benefits of CBD and its potential in relieving skin disorders like acne and eczema. This made them curious about the possibility of treating lichen planus with CBD. Read along to know if CBD can be used to treat lichen planus.
What Is Lichen Planus? 
Lichen planus is a skin condition resulting in clusters of raised lesions on the skin surface. These raised lesions are called papules and can be found on the ankles, lower back wrists, scalp, or the mucous membranes present in the mouth and the genitals. Usually, the skin condition resolves by itself in 1 or 2 years, even though it can recur. Lichen planus is commonly seen in adults between the age of 30 and 60 and is found more in women than in men.
Indicators Of Lichen Planus 
The papules caused by lichen planus can change in appearance depending on the area of occurrence. When present on the body, these papules will be firm, shiny, purple-red, raised, and flat-topped. These papules can be very itchy, or may not itch at all. When present in the mouth, the papules of lichen planus will appear as white patches and these patches can be seen on the gums, cheeks, and tongue. These patches can cause a burning sensation inside the mouth, which can increase while drinking or eating.
On the genitals, lichen planus can result in sore, red patches on the vulva. In males, ring-shaped patches will be present on the penis. When present on the scalp, the skin condition can result in bald patches, together with itchy or sore lesions.
Using CBD For Lichen Planus 
A 2019 review suggests that CBD can influence skin health in many different ways. The ECS regulates the rate at which skin cells grow and die. This means that dysfunction in ECS could lead to many skin conditions. Using CBD can improve the ECS activity by decreasing the rate at which natural cannabinoids in our body break down. In addition, CBD can bind with receptors outside the ECS to reduce inflammation.
So, even though there is no strong evidence to support the use of CBD for lichen planus, it might be helpful. Moreover, anecdotal reports also show that CBD for lichen planus can be effective.