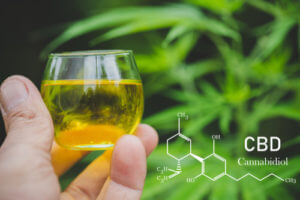 There are different types of CBD-infused products available in the market. For example, there are CBD edibles, vape oil, pills, capsules, beverages, topical products, etc. When you ingest or inhale it, you get systemic relief from the symptoms of ailments. Applying CBD topical products on the skin gives quick localized relief because the cannabinoid is not entering the bloodstream. Here, in this article, we will discuss CBD roll-on, which is a popular cannabidiol integrated therapeutic product.
What Is CBD?
Before discussing CBD roll-on, it is necessary to know about cannabidiol (CBD). Cannabidiol is a cannabinoid that is extracted from the flowers, buds, and leaves of the hemp plant. It is popular for its therapeutic effects like relieving pain, reducing inflammation, relaxation, reducing stress and anxiety, and so on. When you apply it to the skin or ingest it, it produces its effects by interacting with the receptors of the ECS or the endocannabinoid system.
How Does CBD Roll-On Work?
CBD roll-on is a CBD topical product that can relieve inflammation and pain. Cannabidiol mainly interacts with CB2 receptors of the ECS; these receptors are associated with the immune system, and they are mainly found in the peripheral tissues. Remember that inflammation and pain due to injuries is an immune response. Cannabidiol helps to manage the immune response and accelerate healing and recovery.
How To Use CBD Roll-On?
CBD roll-on can be used like other similar products. It is becoming popular as it can be easily carried around and used as part of your gym or sports training. Applying it before intense sports activity or workout sessions can help with minimizing the pain and inflammation.
You can also apply it after the sports activity or workout session. You need to clean the area properly to ensure that the cannabinoid can easily enter the deeper layers of the skin and give optimal relief. Remember that the presence of sweat and dirt on the skin can hinder CBD from entering the skin.
What Are The Ingredients Used In CBD Roll-On?
CBD: The active ingredient in CBD roll-on is CBD isolate.
Menthol: Menthol is extracted from peppermint, and it produces a cooling sensation. It is used in many topical products because of this property.
Magnesium Chloride: Magnesium is capable of reducing hypersensitivity to pain.
On a final note, CBD roll-on can only be useful for minor wounds, injuries, etc.